Camcorder palmare P2 HD/SD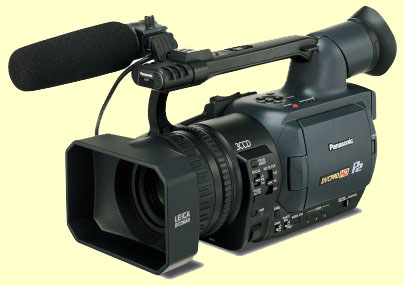 AG-HVX200
è un camcorder palmare
alta definizione
dotato di card P2 (Professional Plug-in), il supporto di memoria espressamente sviluppato da Panasonic per i sistemi professionali: le registrazioni nel versatile formato MXF e la possibilità di inserire le card P2 direttamente nello slot PCMCIA dei computer consentono un accesso istantaneo per l'editing non lineare e per il trasferimento dei dati, senza alcun tempo di carico/scarico delle informazioni.
Dall'ormai affermato camcorder
cinematografico
Varicam AJ-HDC27FE, l'AG-HVX200 eredita il
frame rate variabile
, per riprese con effetti di slow e fast motion direttamente in acquisizione; ma, rispetto a VariCam, le dimensioni più contenute lo rendono decisamente più adatto a riprendere immagini in condizioni difficili.
Facile da usare, AG-HVX200 vanta un'ottica di alta qualità
Leica Dicomar
con obiettivo grandangolare a focale variabile. Elevato anche il livello di versatilità: AG-HVX200 supporta i segnali
1080i
,
720p
e
576i
e i formati DVCPRO HD, DVCPRO 50, DVCPRO e DV su card P2, oltre alla registrazione in DV su nastro.
3CCD 16:9 HD
Obiettivo Leica-Dicomar
P2 card/nastro miniDV
1080/60i, 30P, 24P;
720/60P, 30P, 24P;
480/60i, 30P, 24P
DVCPRO HD / DVCPRO 50 / DVCPRO / DV
Interfaccia a PC tramite IEEE 1394 / USB 2.0
Frame rate variabile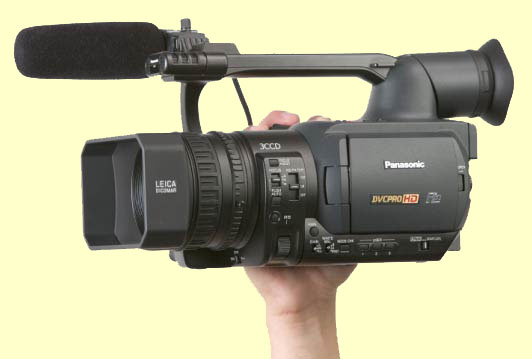 At a press conference at the National Association of Broadcasters annual convention in Las Vegas today, Panasonic announced the AG-HVX2000 High Definition camcorder for $5,995. The new camcorder records DVCPRO50, DVCPROHD, and DV video to solid state P2 flash media cards at a 16:9 aspect ratio. The camcorder can also record a standard DV signal to MiniDV tapes. The AG-HVX200 features three 1/3 in. CCDs and can record 1080 lines of resolution high definition video at 60 frames per second interlaced, 30 frames per second progressive, as well as 24 frames progressive video. The camcorder can also shoot 720 lines of resolution high definition video as well as standard definition video.
"Offering flexibility and versatility never before available to video professionals, the AG-HVX200 DVCPRO HD P2 hand-held camcorder provides 1080i and 720p recording with the production-proven image quality of 100 Mbps DVCPRO HD. The AG-HVX200 shoots on a P2 card in 1080/60i, 30p and 24p; in 720/60p, 30p and 24p; and in DVCPRO50, DVCPRO or DV," stated Panasonic's press release.
When asked by this publication about why users should pick a HD P2 solution with only 8 minutes of video combined with a normal, SD DV tape, or HDV as other manufacturers are offering, Jim Wickizer, a Panasonic spokesperson, said one word: "Quality."
The AG-HDX200 has a 13x optical zoom controlled through a zoom ring, in addition to a focus ring. The new AG-HDX200 includes three 16:9 1/3 in. CCDs. The camcorder offers multiple levels of manual control including many of the film-like controls included in the AG-DVX1000. The camcorder includes both IEEE 1394 and USB 2.0 support for connecting the camcorder to a non-linear editing system.
While the AG-HDX200 can record standard DV video to a MiniDV tape, the big headline buzz about this new camcorder is its P2 solid state media recording options. The camcorder can record many flavors of DVCPRO video to the P2 card.
The AG-HVX200 includes a color viewfinder as well as a 3.5" LCD screen. Because of the non-linear nature of the P2 system, users can navigate the contents of a P2 card through a navigation system on the LCD screen.
For audio the AG-HVX200 includes two XLR inputs. The camcorder can record 4-channel non-compressed 48KHz/16-bit in DVCPRO and DVCPROHD. The camcorder also includes a headphone out jack.
Panasonic has also made the camcorder customizable, as they did on the AG-DVX100. The camcorder can have 6 custom user profiles for shooting settings and three custom buttons.
Panasonic has been hyping the AG-HVX200 for months, beginning with leaked information which appeared on this site. They have been circulating a picture of the camcorder's frame with it covered in a white cloth.

The AG-HVX200 enters the crowded field of prosumer camcorders, though it is pretty lacking in HD models as of today. The AG-HVX200's primary competitor will be the Sony HDR-FX1 and HVR-Z1 which were introduced in September 2004. The FX1 and the Z1 record on the HDV standard at 1080 lines of interlaced video. The HDV standard has been agreed to by Sony, Canon, JVC, and Sharp, with Panasonic noticeably absent. The AG-HVX200 trounces the greatest weakness of the Sony HDV camcorders by supporting 24 frames progressive video.
But JVC has teased an under $10,000 HD camcorder which uses the HDV format but adds 24 frames progressive scan capability. The new JVC camcorder is expected to be announced tomorrow and will certainly provide competition for the AG-HVX200.
The AG-HVX200 will weigh under 5 pounds. The camcorder will be available in the fall of 2005 for $5,995. Panasonic will make a version with two 8 GB P2 cards available for just under $10,000